Native Language:
Empire Strikes Back
Date / Version:
(1982) Re-release
Artwork by:
Thomas Jung
Poster Size:
27" x 41" (68.58cm x 104.14cm)
Condition:
NM, poster is single-sided, folded as issued, and has very minor edge wear. Poster is printed on a heavy glossy paper and the colors are still very vibrant and vivid. This is a very nice poster from the theatrical re-release of the Empire Strikes Back. Please click on the extra large supersize thumbnail image to the right, to see all the small defects.
---Our watermarks do not appear on the actual item---
Near Mint "NM" - Poster is virtually unused and in premium original condition. May have the slightest edge wear from improper handling, and a random scuff mark or two.
Excellent "EX" - Poster has minor flaws, may contain small scuffs and dimples, crinkles, minute edge tears, and wear, but highly presentable.
Fine "FN" - Poster has obvious small flaws from being in circulation and handled, but it is still highly presentable and in nice condition. Most used theatrical posters from around the world will fall into this category.
Good "GD"- Poster is acceptable, may have tears, folds, stains, tape on back, small pieces missing.
Poor "PR" - Poster is in bad condition and it should be restored. Unless otherwise noted, we usually do not sell any posters in this condition.
*Please note: - for posters/collectibles or grand total sale amounts over $1,250.00, we can only accept cash, checks (personal or cashiers), or direct bank wire transfers for these items. See full details on our Payment-Authentic page.
All of these authentic items are original vintage theatrical or commercially issued posters. They were used for the advertisement of the movies and/or other events associated with the distribution and/or merchandising of the films. We do not sell photo/digital reprints or reproductions of these posters. These items are the "real deal" unless otherwise noted in the summary of the description. We try our best to give the fans/collectors an honest representation of the current condition of the poster/collectible. Many of these posters have become or are becoming extremely hard to find, especially with the renewed interest of the Star Wars film franchise.
USA Empire Strikes Back '82 Re-release One-Sheet
This one-sheet was printed for the second re-release film run of the Empire Strikes Back. It has similar aspects to the '81 Empire Strikes Back re-release drawing as it also has the Thomas Jung illustration and the yellow block title lettering, which on this poster is part of the illustration. Below the artwork, on the navy blue background, is the cast and credits area along with the modern 20th Century Fox symbol and PG Ratings box. Poster has a nice white border around the whole design. This particular one is a National Screen Service version (NSS#R820180). It also has the Litho in the USA and property disclaimer in the bottom border.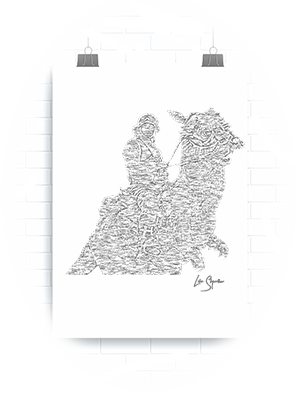 StarWarsMoviePoster.com