Product Title:
Star Wars Boba Fett Kenner 21-Back
Company:
Kenner Products
Manufacture Date:
(1977-78)
Size:
6" x 9" (15.24cm x 22.86cm)
Condition:
EX - NM, action figure is MOC w/blaster, while the card is in C8 condition. Item is punched with a clear bubble, however the bubble has been pinched in at the top. Some minor shelf wear is present around edges of card and in the upper right hand corner there is one diagonal surface vein mark. There are two more surface vein marks in the upper left hand corner coming from the display punch hole. We couldn't hardly find any other original Kenner's
Star Wars
Boba Fett action figures for sale on the net, except for one at Brian's Toys for almost $12,000 (Wow!). We have had this one in our collection since the 80's, so be sure to check out this "Holy Grail" action figure and grab it for your collection. Please click on the extra large supersize thumbnail image to the right, to see all the small defects.
---Our watermarks do not appear on the actual item---
Near Mint Plus "NM+" C9.5 - Collectible should be as close to new manufactured condition as possible, without being in perfect condition. Everything will be in original retail packaging as if buying from store shelf.
Near Mint "NM" C9 - Collectible should be close to new condition, but there will still be a few flaws. It will have all components in new like condition along with the original retail packaging.
Excellent "EX" C8 - Collectible should still be considered a high quality collectors toy. There will be a few more flaws (vein marks / scuffs), including being handled a little more and other wear. It will still have all components along with original retail packaging.
Fine "FN" C7 - Collectible has obvious small flaws from being in circulation and handled, but it is still highly presentable and in nice condition. Most used toys / collectibles from around the world will fall into this category. May be missing some of the components.
Good "GD" C6 - Collectible is acceptable, but has apparent flaws such as yellowing on packaging, minor tears, or fraying on the edge. These are collected for nostalgic value only and/or until a nicer version comes along.
Poor "PR" C5 - Collectible is in bad condition and it should only be purchased knowing it is what it is. Makes a good starter toy or possibly can be used to restore better conditioned versions with missing parts.
---Our generalized scale grading. Please see condition
of toy(s) to find items true condition.---
*Please note: - for posters/collectibles or grand total sale amounts over $1,250.00, we can only accept cash, checks (personal or cashiers), or direct bank wire transfers for these items. See full details on our Payment-Authentic page.
All of these toys/collectibles are original merchandise from the various licensee manufacturers. They were sold to fans/collectors usually during the distribution and/or merchandising of the films. We do not sell reproductions of these items, unless otherwise noted in the summary of the description. We try our best to give the fans/collectors an honest representation of the current condition of these collectibles. With the renewed interest of the Star Wars film franchise, some of these items have become extremely hard to find.
Star Wars Boba Fett Kenner 21-Back (SW21B)
Considering Boba Fett is one of the more popular characters from the Star Wars trilogy, it's not surprising that his original 3 3/4-inch action figure is one of the rarest and most sought after collectibles. Boba Fett's figure started out as the first Star Wars Kenner mail away action figure, that included the now infamous rocket-firing backpack (which of course was ultimately removed for safety reasons). With four action figure proof of purchase seals you could mail in to get this new free action figure character during a limited time. After that offer was done and Kenner was gearing up for the release of the Empire Strikes Back and all it's new action figures, they decided to go ahead and release Boba Fett on an action card for anyone that didn't have a chance to get in on the mail away figure. They released Boba Fett as one of the final characters to still be on a card with the original Star Wars logo. He was subsequently released on an Empire Strikes Back, Return of the Jedi, and Power of the Force (Special Collectors Coin) card. This carded action figure is also only one of three Star Wars action figures that used original artwork on the front instead of a still from the movie. The illustration is known as the "fireball" and it has the text -
* A fearsome interplanetary bounty hunter.
* A threat to the Rebel Alliance, especially Han Solo!
* A New Character in "Star Wars, The Empire Strikes Back."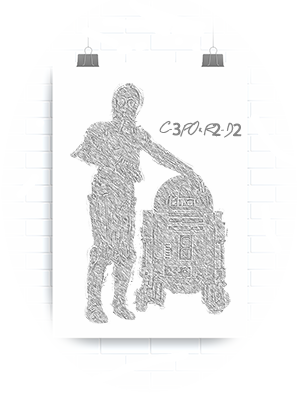 StarWarsMoviePoster.com