Native Language:
Star Wars
Date / Version:
(1978)
Artwork by:
General Mills
Poster Size:
47" x 67" (119.38cm x 170.18cm )
Condition:
EX, poster is single-sided, rolled as issued, and has edge wear. Poster is printed in two sections on a heavy matte paper and is still a very nice presentable copy of this forty-year-old German promotional poster. The main body of both posters is still really nice, however the main defects of the poster are the corner tips which are a little ragged and missing small pieces of paper, plus edge wear that has caused some crinkles. It also has pinholes were it was hung and a piece of scotch tape on the back upper side of the right panel mending a border tear. The left side panel also has an small area that looks like someone pulled off a piece of tape and the top layer of paper went with it. Please click on the extra large supersize thumbnail image to the right, to see all the small paper defects.
---Our watermarks do not appear on the actual item---
Near Mint "NM" - Poster is virtually unused and in premium original condition. May have the slightest edge wear from improper handling, and a random scuff mark or two.
Excellent "EX" - Poster has minor flaws, may contain small scuffs and dimples, crinkles, minute edge tears, and wear, but highly presentable.
Fine "FN" - Poster has obvious small flaws from being in circulation and handled, but it is still highly presentable and in nice condition. Most used theatrical posters from around the world will fall into this category.
Good "GD"- Poster is acceptable, may have tears, folds, stains, tape on back, small pieces missing.
Poor "PR" - Poster is in bad condition and it should be restored. Unless otherwise noted, we usually do not sell any posters in this condition.
*Please note: - for posters/collectibles or grand total sale amounts over $1,250.00, we can only accept cash, checks (personal or cashiers), or direct bank wire transfers for these items. See full details on our Payment-Authentic page.
All of these authentic items are original vintage theatrical or commercially issued posters. They were used for the advertisement of the movies and/or other events associated with the distribution and/or merchandising of the films. We do not sell photo/digital reprints or reproductions of these posters. These items are the "real deal" unless otherwise noted in the summary of the description. We try our best to give the fans/collectors an honest representation of the current condition of the poster/collectible. Many of these posters have become or are becoming extremely hard to find, especially with the renewed interest of the Star Wars film franchise.
German Star Wars Super 2-sheet Poster / A00 Size
Licensee - General Mills printed these posters for use in Germany and it was a poster rolled in foil with an inlay inside that says "Star Wars Super-Poster im Panoramaformat" 119 x 168cm.
"Riesenposter für eine ganze Wand im Kinderzimmer. Mit den spannendsten Action-Szenen aus dem berühmten gleichnamigen Science-fiction-Fil KRIEG DER STERNE. Unglaubliche Abenteuer in neuen Dimensionen des Universums-jetzt erstmalig zum Greifen nah!" ("Giant poster for a whole wall in the nursery. With the most exciting action scenes from the famous eponymous sci-fi movie WAR OF THE STARS. Incredible adventures in new dimensions of the universe-now at your fingertips!")
Poster was printed in two sections, and the illustrated poster was sold rolled in German toy stores. It shows off most of the original characters and ships from the film. The left side poster shows the Tie-fighters, X-wing, and Stormtroopers firing their blasters down a corridor. The right side poster shows the rebel heroes in action pose, Figrin D'an and the Modal Nodes, and Vader's helmet in the background. The copyright on the bottom right side reads: "Characters © 1977 Twentieth Century Fox-Film Corporation. Trademarks of Twentieth Century Fox-Film Corporation, licensed in Germany to General Mills Inc. German Branch, 6054 Rodgau 3. Printed in W.-Germany" plus the Star Wars Logo™.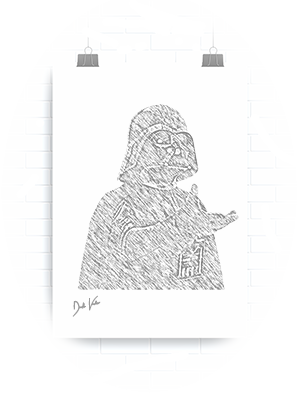 StarWarsMoviePoster.com